Color

Albino, Black, Blue, Brown, Cinnamon, Citron, Cobalt, Gold, Green, Grey, Lilac, Lutino, Opal, Opaline, Pastel, Pied, Purple, Silver, White, Yellow
Characteristic

Companion, Cute, Exotic, Fancy, Noisy, Pet, Playful, Rare, Singing, Talking, Tame
Additional Comments
Little Green Men ('v')

Placing into your home the perfect hand-tame companion budgie through dedication and science.

How we operate:
We raise a limited number of budgie chicks at a time so that we can fully socialize every chick individually and place them with the perfect home based on personality and other characteristics specified in a reservation. When placing a reservation, you will be asked to describe exactly what you're looking for in a budgie and we will do our best to match as many of the characteristics you describe as possible.... (read more) Every bird we raise is healthy and hand tame at the time of pick up because of the extensive amount of time we spend with them. While they are growing we get to know them well enough to match them with the best home. We have all new owners handle the birds at pickup time so they can confirm that the bird meets all their expectations.

Our husbandry practices include meticulous hygiene routines, enrichment, reduction of stress, and individual attention for every bird in the aviary, made possible by keeping a small-scale aviary and not overcrowding. Overcrowding means faster breeding and more chicks, but we condemn this technique in favor of safety, health and comfort. We also rest our females after only two clutches so they do not suffer exhaustion or worse tragedy. These policies mean that we raise fewer chicks, but that they are all healthy and well-adjusted. We even offer a MONEY BACK HEALTH GUARANTEE as long as the new owner has a vet check for their new bird within 24 hours of adoption. We are very flexible on pickup times, so we can arrange pickup after you've made a veterinary appointment that works with your schedule. We do not require you to make a vet appointment in order to pick up your new baby, but if you do not arrange one then we cannot offer the health guarantee due to the many possibilities for exposure once the bird is outside our home.

All new owners will receive a CARE PACKAGE when they pick up their new baby which will include a 3-week baby photo, a sample of the pellets we use, a favorite toy, and our extensive care sheet. All owners will also be treated with individual attention regarding their bird after adoption for as long into the future as you'd like. We are happy to help with advice about your other birds and other areas of avian science as well.

We encourage prospective owners to schedule a visit to the aviary (masked) prior to placing a reservation. We do not require this, but we do find it helps new owners feel more confident about placing a reservation and waiting for a bird.

To place a reservation for a budgie baby to be picked up after weaning, please text Katey at (401) 855-1809 with the following information (* indicates required information):
*Name:
Color or morph desired (as precise or vague as you'd like):
Gender desired:
Personality traits desired (as precise or vague as you'd like):
Preferred time frame:
*Number of budgies you plan to ultimately keep:
*Birds you currently have:
*Non-avian pets you currently have:
*Past experience with birds or exotics (it's ok if you're new to bird ownership - it's just good for us to know so we can provide additional information):
*Email:
Phone number:

If you do not have a preference in one or more of the non-required fields, please leave blank. All our budgies are raised to be hand-tame, but personality will differ in many other ways.

We do NOT require a deposit to reserve a bird, but if we feel you are abusing our reservation policy we will uphold our right to refuse your request. Once we have received your request and approved it, we will contact you with an estimated wait time. Wait times to baby placement will depend on many factors including how specific you are in your desires and who is actively breeding. More precise specifications may take longer to fulfill while more generalized needs can be met more quickly.

Pricing is based on morph rarity and desirability, as follows:
Normal green (wild type): $60
Normal blue: $70
MOST MORPHS: $75
Ino (albino/lutino/creamino): $80
Dark-Eyed Clear (yellow or white with black eyes): $85
Cinnamon: $85
Violet (visible): $90
Spangle (single factor): $100
Rainbow spangle: $120
Lacewing: $150

Budgies with multiple mutations will be priced based on rarity and desirability among bird owners. Most of our budgies will fall into the $75 category. For questions about morph rarity or why lacewings are so difficult to create, please text Katey at (401) 855-1809.

Colors and morphs we're expecting in the next few months:
Spangle
Violet
Greywing
Clearwing
Cinnamon
Cobalt
Normal blue (sky blue)
Mauve
Recessive pied
Dominant pied
Dark eyed clear
Gray
Albino
Creamino
Lutino
...and many beautiful combinations of these features.

Expected in the next year with longer wait times:
Rainbow spangle
Lacewing

Keep in mind that most pairs produce multiple morphs in each clutch - so although we have relatively few pairs, we produce MANY different morphs! One pair alone (a gray female named Tinsel and a cobalt dominant pied named Sledgehammer) produces violets, greywings, grays, mauves, cobalts, normal blues, and dominant pieds!

Feel free to text questions about our aviary, our policies, your own birds, or any other aspect of budgie and avian science to Katey at (401) 855-1809. Thank you for your inquiries about these hilarious little chatty dinosaurs!
Shipping Notes
We do not ship our budgies. No exceptions.
---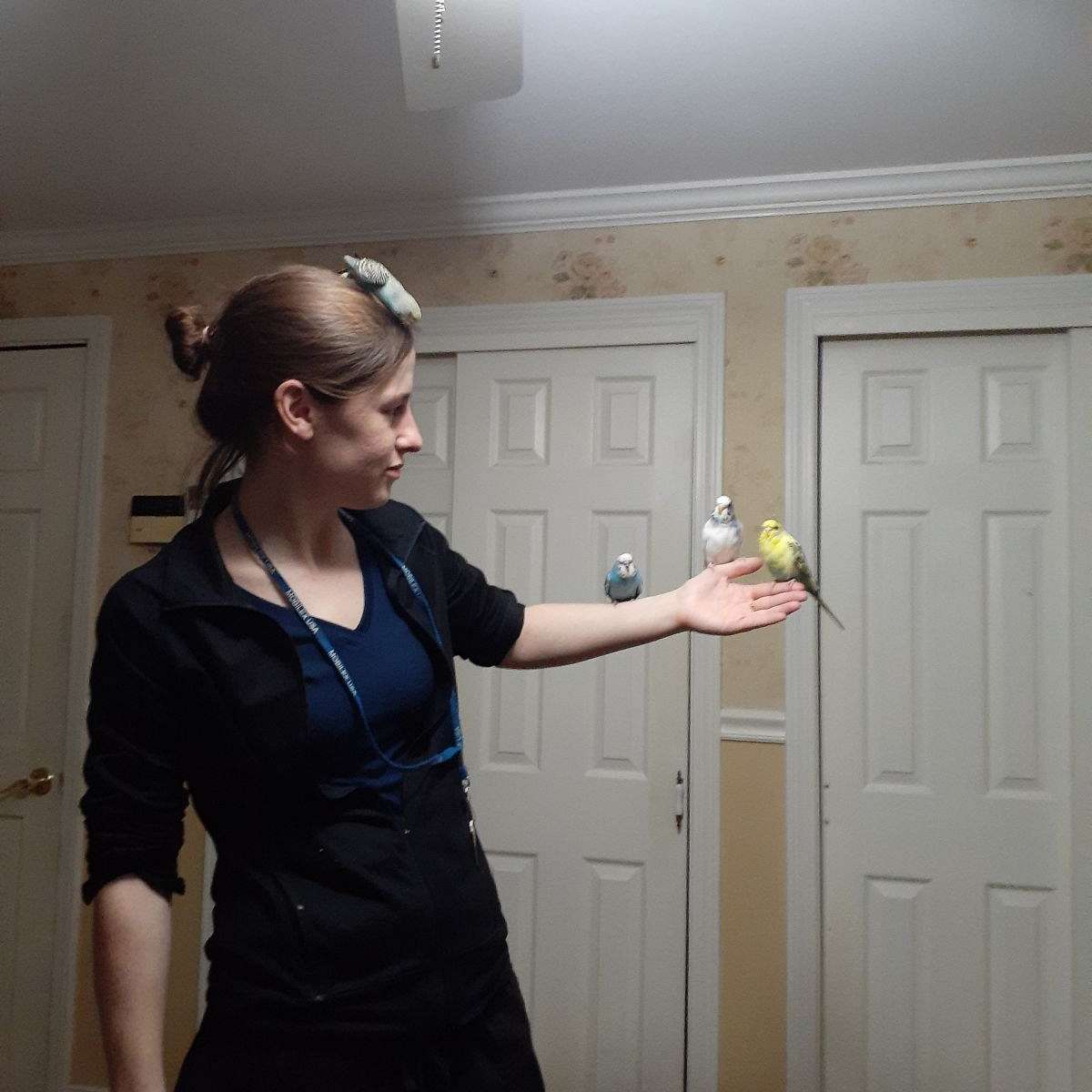 Little Green Men
Little Green Men Mission and Vision: Our mission is to raise healthy, strong, socialized budgie chicks in a clean, safe, and enriching environment, and to place them into well-matched, loving homes. Using the scientific method and meticulous documentation we improve our knowledge with each clutch and ultimately hope to become a resource for other breeders and to contribute our research to the fields of aviculture and avian behavior.