Color

Albino, Black, Blue, Brown, Cinnamon, Citron, Cobalt, Green, Grey, Lilac, Lutino, Opal, Opaline, Pied, Purple, White, Yellow
Characteristic

Bonded Pair, Companion, Cute, Exotic, Fancy, Noisy, Pet, Playful, Rare, Singing, Talking, Tame
Additional Comments
Little Green Men ('v')
Hand tame, healthy, happy budgie chicks!

WE HAVE CHICKS AVAILABLE AGAIN!

For detailed information about how we operate, please visit our website listed below this ad.

HOW TO RESERVE:

To place a reservation for a budgie baby, please text Katey at (401) 855-1809 with the following information (* indicates required information):
*Name:
Color or morph desired:
Gender desired:
*Other birds you own:
*Non-avian pets you own:
*Email:
Phone number:

If a chick meeting your criteria is already available, you'll be contacted ASAP to schedule a pickup.... (read more) If we do not have any chicks meeting your criteria, we will contact you with an estimated wait time. Wait times to baby placement will depend on many factors including how specific you are in your desires and who is actively breeding. More precise specifications may take longer to fulfill while more generalized needs can be met more quickly.

All new owners receive a CARE PACKAGE with their chick's favorite toy, a sample of the high-quality pellet we use, a baby photo, and our care guide. We also offer a 60-day HEALTH GUARANTEE as assurance that your bird comes from a safe and healthy environment (this guarantee is voided if the chick is exposed to other birds during that time).

We do not require a deposit to reserve a bird.

PRICING BY MORPH:

These are our standard prices for American budgies. Birds of highly unusual genetic combinations or show quality English will be priced individually at our discretion.
As a general rule there is a $30 upcharge for English budgies.

Normal green (wild type): $60
Olive: $60
Opaline green/olive: $60
Normal blue (sky blue): $70*
Cobalt: $70*
Opaline blue/cobalt: $70*
Type II Yellowface normal blue: $75*
Mauve: $75*
Dominant pied: $75*
Recessive pied: $75*
Greywing: $75*
Gray (true gray, not mauve): $80*
Ino (albino/lutino/creamino): $80
Cinnamon: $80*
Dark-Eyed Clear (white/yellow + black eyes): $85
Dilute (paler than greywing): $85
Violet (visible): $90*
Spangle (single factor): $100
Clearwing: $110
Rainbow dilute: $120
Rainbow spangle (SF): $130
True rainbow (clearwing): $140
Lacewing: $160

Morphs with * are available right now. Those without asterisks will require a wait time (feel free to put your name down to reserve).

Feel free to text questions about our aviary, our policies, your own birds, or any other aspect of budgie and avian science to Katey at the number below this ad. Thank you for your inquiries about these hilarious little chatty dinosaurs!
Shipping Notes
Pickup only in Richmond, RI.
---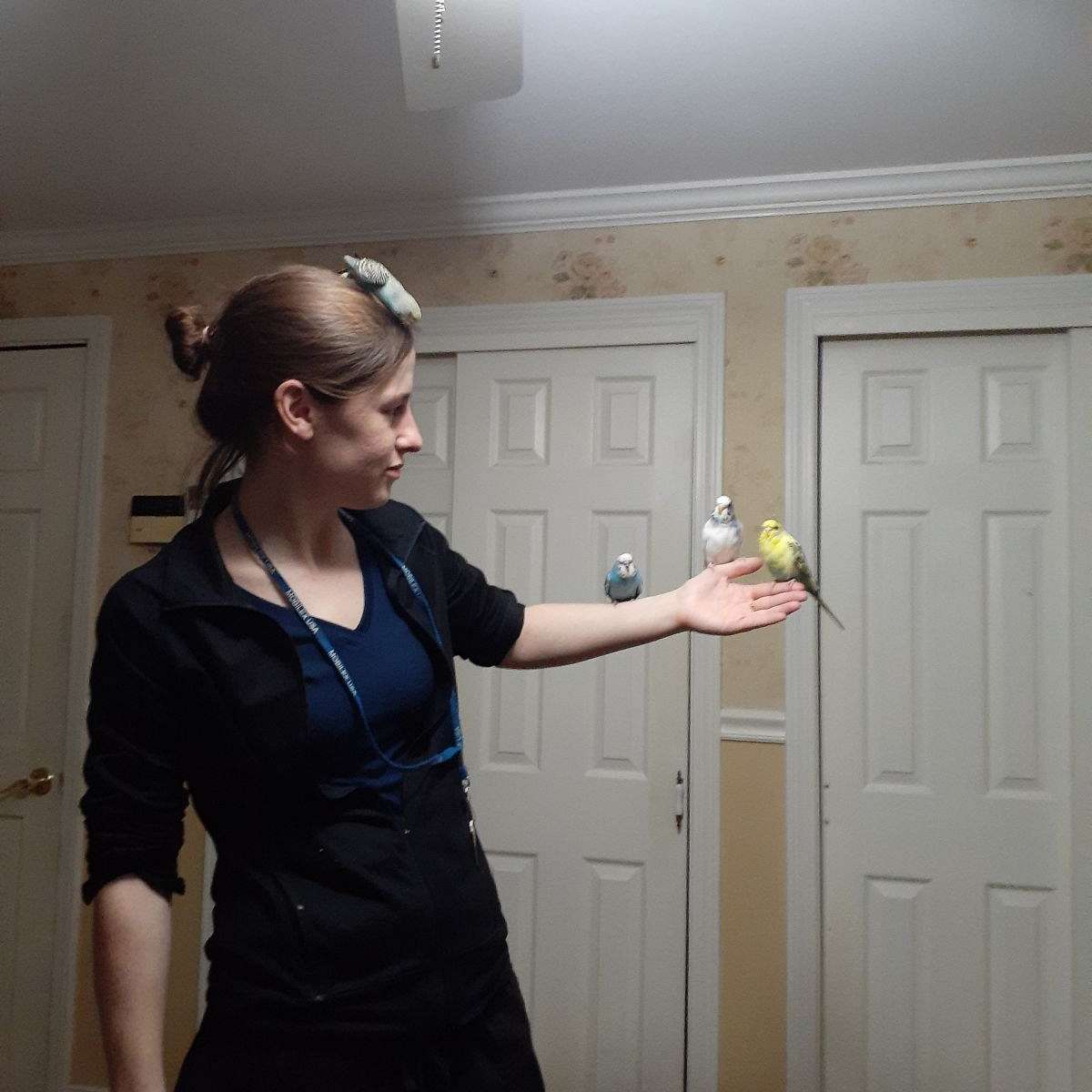 Little Green Men
Little Green Men Mission and Vision: Our mission is to raise healthy, strong, socialized budgie chicks in a clean, safe, and enriching environment, and to place them into well-matched, loving homes. Using the scientific method and meticulous documentation we improve our knowledge with each clutch and ultimately hope to become a resource for other breeders and to contribute our research to the fields of aviculture and avian behavior.