Characteristic

Companion, Cute, Fancy, Pet, Quiet
Additional Comments
Hatch Date: June 12, 2022
Mutation: White Rump
Sex: Undetermined * Diamond Doves usually have to be several months old to tell the gender based on their orange eye-ring development
Behavior: Calm, peaceful, easily hand-tamed and make soft "whoo whoo" sounds
Price: $50
Notes: Diamond Doves require grit in addition to their seeds/veggies in order to digest their food.

- Sorry, we do NOT ship.... (read more) Local pickups in Martinsville, Virginia only to ensure everyone's safety
- Must bring your own cage or travel cage
- Please familiarize yourself with Diamond Dove care, nutrition and safety before your purchase
- Once the bird leaves my home, I am no longer responsible
- All sales final: we do not take back or exchange any birds for the physical safety of our flock

* NO deposits: first come, first served.
Shipping Notes
Sorry, we do NOT ship. Local pickups only to ensure everyone's safety.
---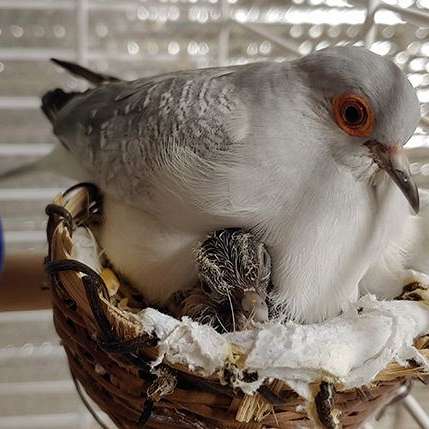 Citatech Birds
We are hobby bird enthusiasts who raise Diamond Doves, Bourke's Parakeets and Cockatiels at home.