Color

Black, Blue, Pink
Characteristic

Companion, Cute, Fancy, Pet, Playful, Rare, Singing
Additional Comments
I have 3 Normal Bourke Parakeets for sale. All hatched in late 2021 and have been handled by me, so they could get used to human contact; so far I have not been bitten by any of them as they seem to know they will remain safe, even with being held. They are not DNA sexed, but given their behavior and feather color above the cere (nose), it would seem they are all females.

Normal Bourkes Price: $150 firm each

They are used to their regular seeds, millet snacks and mixed veggie chop that I make for my flock with organic vegetables.... (read more) Wings are not clipped, so they can and do fly ~ please ensure windows and large mirrors are covered before letting them out and doors/windows closed as well as other pets like cats/dogs and large birds not in the same room for safety.

Bourke Parakeets are pleasant sounding birds, with a prettier sound than budgies and I have found them to be more calm than regular parakeets. They are easy to take care of and with a little patience, and consistency, they are fairly easy to hand-tame and train once you have given them time to adjust to their new home and environment.

Cash and carry only, pickup in Martinsville, VIRGINIA.

- Sorry, NO shipping available.
- First come, first served, NO deposits.
- Must bring your own cage or travel cage/box
- All sales final: no trades, returns, refunds or travel discounts
- Once the bird is sold, it is the responsibility of the new owner to keep it safe, well fed/watered and keep themselves educated on proper long-term care of their new feathered companion. Not all house plants are safe for chewing, so please look up any plants you might have that they could chew on to make sure they are safe for parakeets.
Shipping Notes
Sorry, we do NOT ship. Local pickups only to ensure everyone's safety.
---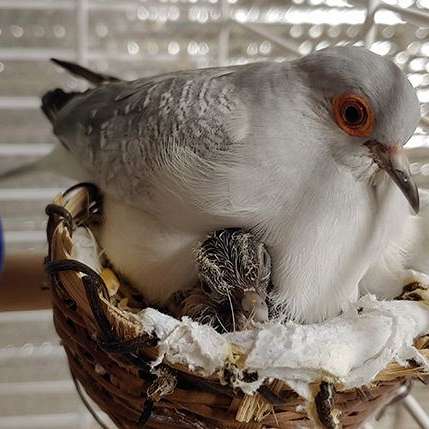 Citatech Birds
We are hobby bird enthusiasts who raise Diamond Doves and Cockatiels at home.